28 Feb

Evidence Why B2B SMB's Need a Social Media Presence

If you're a B2B small to medium-sized business looking to invest in social media, this study is for you.

According to an article by eMarketer:

"For B2B small and medium-sized businesses (SMBs), Facebook is for traffic, and Twitter is for leads. That, at least, is the conclusion of an analysis of 600 US B2B SMB websites conducted by Optify.

The study, which parsed over 62 million site visits, 215 million page views and 350,000 leads in 2012, found that visitors coming from Facebook made up 54% of all social media-sourced site visits, and those from Twitter just 32%. Nevertheless, Twitter accounted for 82% of all social media-originated leads, while Facebook accounted for a paltry 9% of leads. LinkedIn played a relatively minor role, accounting for 14% of site visits from social and 9% of social leads."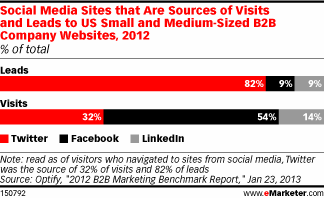 In addition to these findings, nearly 5% of leads come from social media for these businesses.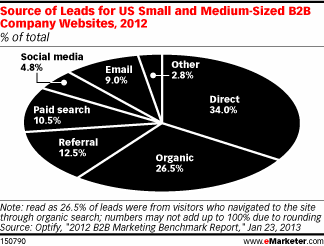 The article goes on to say that while social media presence is important because of the leads you can generate, it doesn't greatly increase traffic to the company website (accounts for 1.9% of those studied).
"Email was another tactic that paid dividends, accounting for less than 1% of traffic but a substantial 9% of leads. Organic traffic, by contrast, accounted for 40% of site traffic but delivered a much smaller comparative share of leads: 26.5% of the total."
What this article does not describe is what kind of social media strategy these companies have. It makes you wonder how many followers they have on Twitter/Facebook or how many Likes/fans they have on Facebook.
For the full article please visit the eMarketer website.
What kind of results does your company see for its social media strategy? Let us know in a comment below!
Are you looking to increase your leads from social media? Contact us today to discuss social media strategy!
Interested in Learning More?